Thank you to our sponsors:
Ridiculous Days offers 3 days worth of crazy deals, bargains and sidewalk sales from Washington retailers in the first weekend of June. Full days of events like a Ridiculous/Tractor Parade, Kiddie Tractor Pull, Princess & Superhero Contest, Bounce House and more are sure to keep you and your family busy the whole weekend. We even have 10 different food trucks! Stick around in the evening though because our live band is always a hit!
Check out the Ridiculous Sales on our Facebook page!
Saturday, June 3rd, 2023 Schedule:
8am-5pm: Ridiculous Sidewalk sales
10am: Washington Public Library's Writers' Workshop
11:30am: Public Reading with Sarah Prineas at Public Library
Noon: Picnic in the Park with the Municipal Band
1-5pm: Plinko, Pony Rides, Bubble Booth, Bounce House, Face Painting, & Magic Show
1:30pm: Oz Look-Alike Contest, register 1 hr prior
2:30pm: Toto Look-Alike Contest for pets, register 1 hr prior
2:30pm: Kiddie Pedal Tractor Pull, register at 2pm
5pm: Ridiculous & Antique Tractor Parade arrives downtown
6-11:30pm: Flightline Live featuring Dog on Skis & The Schmidt Brothers. FREE Entrance for all ages & beverage tent
SIGN-UP FOR THE PARADE:
There is no cost to participate in the parade, but those who wish to enter the float competition can do so for $10 and compete for a traveling trophy and a 50/50 cash prize. The parade is set to arrive downtown at 5 pm. Floats are encouraged to incorporate the theme of There's No Place Like Home, which is a partnership with the upcoming performance at the Washington Community Theater, The Wizard of Oz.
Download Ridiculous Day Parade Registration Form: 2023 Parade Reg & Waiver
REGISTER YOUR TRACTOR FOR THE TRACTOR PARADE:
Tractors can arrive at the fairgrounds and register around 2-4 pm. The tractors will depart at 4 pm from the fairgrounds. Questions for the Antique Tractor Parade can be directed to Jerome Vittetoe, 319-430-0797.
THE RIDICULOUS DAY AND ANTIQUE TRACTOR PARADE IS SCHEDULED TO ARRIVE DOWNTOWN AT 5PM ON SATURDAY, JUNE 3.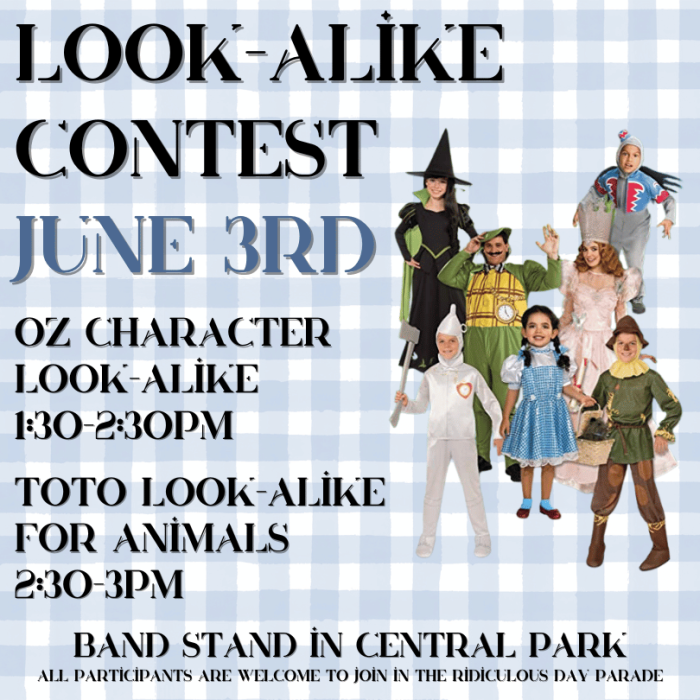 OZ AND TOTO LOOK-A-LIKE CONTEST (1:30-3PM):
Do your kids have a heart, brain, or courage? Parents, get out your "witchy talents", gather your monkeys, and bring your munchkins in their Oz look-a-like costumes to the bandstand 1 hour before the contest to register. Pet owners can get in on the action this year too! Dress your animal up as Toto and show off a trick or two. Oz & Toto-like costumes are encouraged but not required. Participants will be asked if they have a special 'trick' or 'talent' and all participants are welcome to join in the parade that day at 5pm.
KIDDIE TRACTOR PULL CONTEST (2:30-5PM):
Round up your kids and pedal away to the Kiddie Tractor Pull Contest. Registration starts 30 minutes before the contest begins.
RETAIL VENDORS:
Let's get RIDICULOUS! Come and join us June 1 – 3rd for the 76th Annual Ridiculous Day Sidewalk Deals & Steals. Our market is an open invitation to showcase and sell your product. Sidewalk sales are on Thursday, June 1st and Friday, June 2nd from 10am-8pm, and Saturday from 8am-5pm.
Non-downtown retailers are welcome. Contact the Chamber for the vendor registration form by contacting 319-653-3272 by Wednesday, May 31.