Candlelight Tour of Homes:
December 2nd & 3rd, 2023
THE COUNTDOWN IS ON!
Get into the holiday spirit and join the Washington Chamber of Commerce for their 32nd Annual Tour of Homes, on December 2nd and 3rd. Get a peek into four beautifully decked-out homes while soaking in the local history and culture. This cherished tradition is sure to dazzle with its festive ambiance and stunning decor.
Don't wait! Grab discounted tickets for $12 in advance or pay $15 at the door. Come December 2nd and 3rd, get ready to be swept away in a winter wonderland!
Saturday, December 2nd from 4-8p.m.
Sunday, December 3rd from 1-5p.m.
Tickets are $12 in advance, $15 at the door of any of the homes or businesses during the Tour times. Your ticket will get you into the Tour on either or BOTH days!
For 32 years, the Chamber has been decorating the community with holiday lights. While the original vision started in the heart of our community, downtown Washington, the love for the holiday season continues to grow.
In 2018 the Chamber partnered with a number of area organizations to invest over $35,000 to begin the process of expanding and improving the holiday lights in our community. With the conversion to LED, we continue to grow the holiday lights and add new buildings to the greater downtown area each year. It may surprise you to know that we have over 6,000 linear feet of lighting in the downtown area. This year we are excited to add Grace Community Church and Purposefully You!
When the lighting project began back in 1990, the Candlelight Tour of Homes event was also born. The citizens knew that in order to keep the lights shining bright, there needed to be a continual fund dedicated to maintaining the lights. The Candlelight Tour of Homes is the primary fundraiser for our holiday lighting season.
As community members, you can help contribute to this project in a fun way, by supporting and attending our Tour of Homes event next weekend.  This year will be our 32nd Anniversary Candlelight Tour of Homes and we are featuring 4 homes and 2 business stops on this year's tour.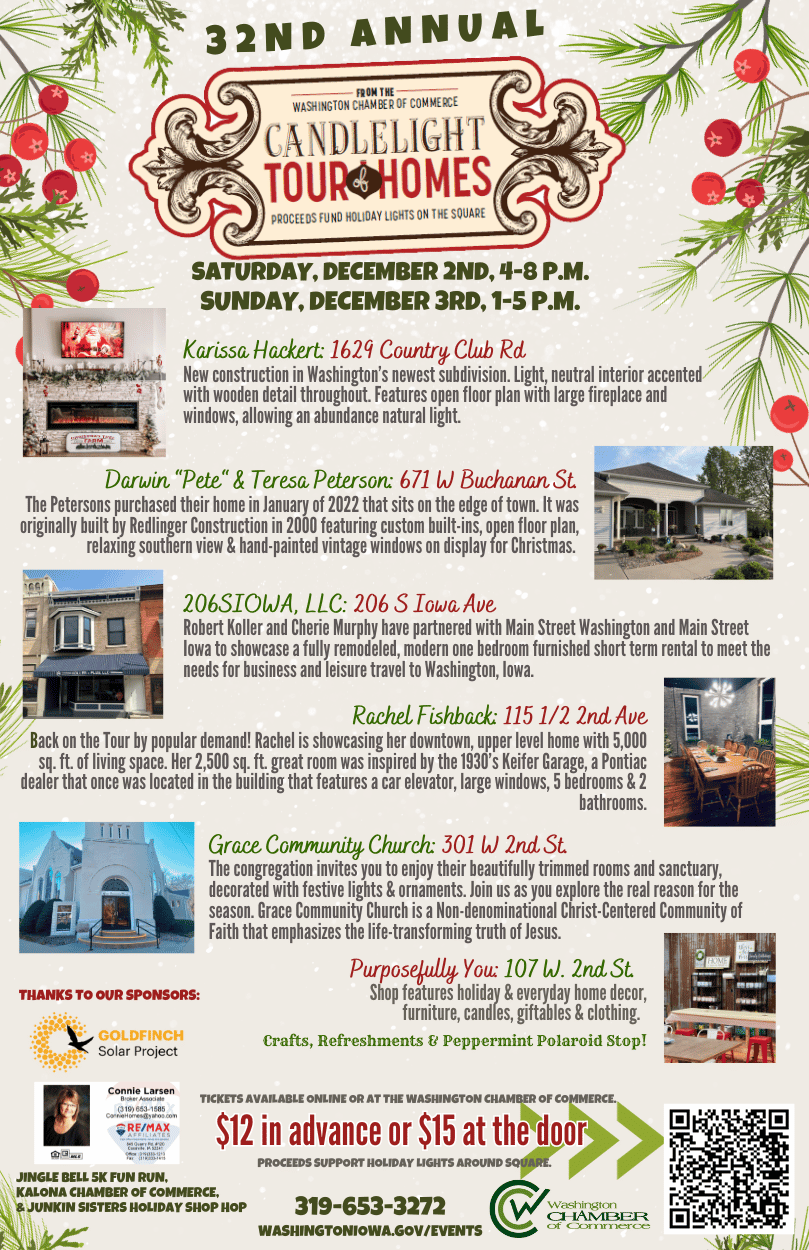 2023 Home Stops:
1.) Karissa Hackert: 1629 Country Club Rd
2.) Darwin "Pete" & Teresa Peterson: 671 W Buchanan St
 3.)  *   206SIOWA, LLC: 206 S Iowa Ave  *
  4.) *   Rachel Fishback: 115 1/2 2nd Ave  *
5.) Grace Community Church: 301 W 2nd St
6.) Purposefully You (Crafts, Refreshments & Peppermint Polaroid Stop!): 107 West 2nd St
 *  These homes have stairs. Mobility assistance will be provided. *