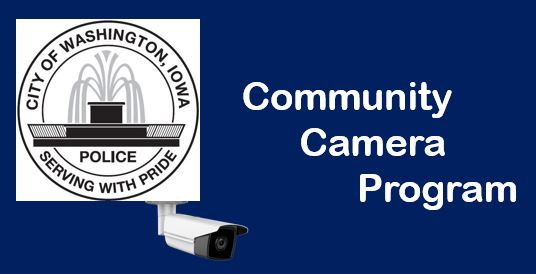 One of the many Police Department – Community partnerships is our Community Camera Program. This program encourages Washington residents to register their home security/surveillance camera systems with the Police Department. Sharing this valuable information on locations and capabilities of home surveillance systems can oftentimes provide valuable assistance with criminal investigations.
Having systems registered with the Police Department, investigators can quickly identify nearby cameras that may have captured the criminal activity. If necessary, owners may be requested to view their camera footage in order to assist in the investigation.
Officers will not have remote access or be able to access live-feeds of any registered cameras. The program is completely voluntary and no one is obligated to release recordings to the Police Department. All information provided is for official use only and personal information will remain confidential.
The goal of the Washington Community Camera Program is to deter crime and promote public safety through collaboration between the Police Department and the community.
You can register your camera online at this link:  Washington Community Camera Program Registration | City of Washington, Iowa