The Washington Economic Development Group (WEDG) commissioned a child care market analysis to better understand the supply and demand for child-care and to gain insight to challenges experienced by parents and employers in Washington County. Results of the market analysis and key findings were published in November 2021.  Thanks to all the parents, employees, and employers who helped complete this study.  A summary of the key findings is provided in this post.
First Children's Finance completed the study that WEDG commissioned in collaboration with the cities of Washington County, East Central Iowa Council of Governments, Alliant Energy, and the Washington Chamber of Commerce.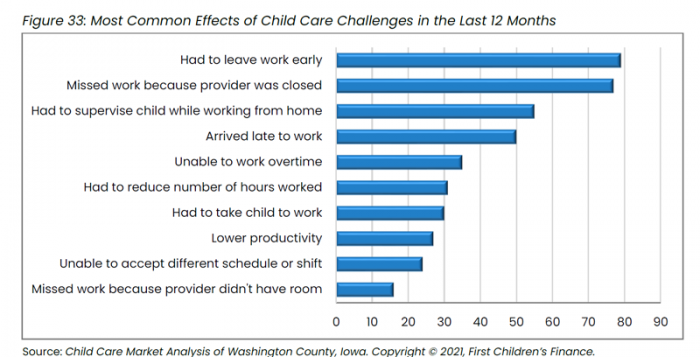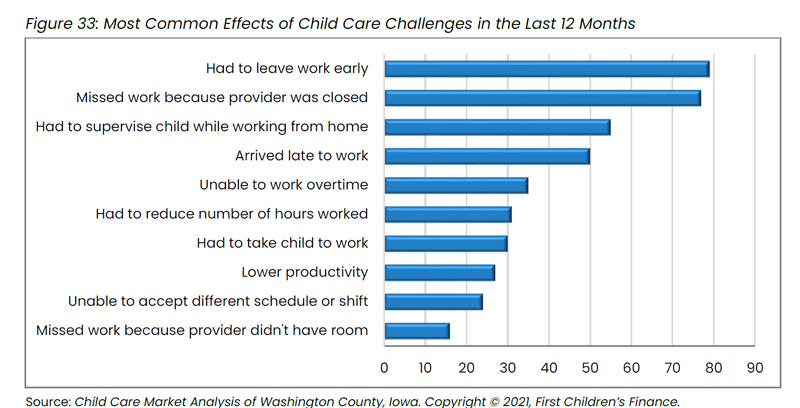 A link to the Key Findings is here.
Here is a summary of the Key Findings:
Parents are in the Labor Force and Need Child Care
Parents Prefer DHS Regulated Child Care Settings
Less Than Half of Parents are Using Their Preferred Child Care Setting
Parents Have Difficulty Finding Child Care
There is a shortage of Child Care Spaces
Median Family Income is Higher than the Child Care Assistance Threshold
Parents Indicate Child Care is Affecting Their Employment
Employers Indicate Child Care is Affecting Productivity and Attendance
Child Care Providers Indicate Staffing is a Challenge
Next Steps
First Children's Finance's (FCF) research has provided information that can be valuable to the communities within Washington County, as well the existing child care providers. Based on FCF's analysis, it can be concluded that the number of children living in Washington County has been increasing and more quality child care spaces are needed. The data in this report shows that the families within Washington County have different demographics, and each community has a different supply and demand for child care. In addition, that data, along with the employer, child care provider, and parent survey results can guide future decisions concerning child care in Washington County. Those decisions include what ages to provide care for, hours of operation, what factors are important to parents when selecting child care, and what child care settings are most preferred by parents.
Above all, this study will help support any childcare provider who reaches out to us. In addition, we will also provide support requested for the latest Child Care Challenge Grant cycle or other funding sources that are applicable. (Counties with current study results get more points!)